EXPLORING THE FLIPPED CLASSROOM USING SAFARI Montage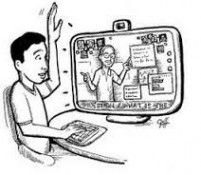 FLIPPED CLASSROOM: Is the process of transferring the ownership of learning from the teacher to the student.  Traditional, lecture-driven instruction is delivered through video and completed outside of the classroom.  Face-to-face class time is replaced with hands-on, authentic learning tasks that are delivered through inquiry-based, constructivist, and/or Socratic pedagogies.
Key Concept:  Direct instruction is moved outside of class time while inquiry based and constructivist pedagogy is used during class time.
Source:  Modern Teacher Press
---
SAFARI MONTAGE: MAKING  FLIPPED  INSTRUCTION  EASY
Create standards based Playlists using various media types

Use the web cam feature on the SM Media player to record a lesson and then upload it using CreationStation to be included in your playlist.

Personalize your Playlist with your own instructions and directions using recorded web cam and upload documents using CreationStation to be included in your lesson.

Provide standards, lesson objectives, specific tasks and quizzes using the Description, Quiz, and Comment features when creating a Playlist. 
---
TASK: CREATE A LESSON THAT WILL BE VIEWED AT HOME &  REVIEWED IN CLASS