AN OPEN PLATFORM TO DELIVER A K-12 DIGITAL CURRICULUM
SAFARI Montage provides K-12 school districts with a comprehensive solution for their digital media networking and visual instruction needs. The full suite of integrated products provides a single interface for accessing all visual resources from inside the school district intranet or from home. Whether being used as a superior Video Streaming Library, a massive Learning Object Repository or an elegant Digital Learning Platform with a built-in mobile device Student Response System, SAFARI Montage® has the foundation for your school district to evolve with you as you embrace and confront all of the challenges that delivering a digital curriculum poses. SAFARI Montage also offers solutions for IPTV & Live Media Streaming to enable schools to seamlessly integrate live and recorded digital TV, school news and videoconferencing into teaching and learning. As a server-based system, it enables seamless LDAP integration between digital solutions and utilizes bandwidth intelligently to ensure reliable access to learning resources.
Forsyth County Schools (GA), a leading proponent of student mobile devices, are using our Learning Object Repository (CreationStation™) to manage 50,000 digital learning resources.
At Keller ISD (TX), they are using our Digital Learning Platform (Digital Curriculum Presenter™) to drive their digital curriculum while optimizing their high-bandwidth networks.
Lake County Schools (FL) are effectively utilizing Digital Curriculum Presenter (DCP), along with our Learning Object Repository to provide 21st Century learning resources to students and teachers anytime, anywhere.
In a big urban district like Chicago Public Schools (IL), video streaming content is provided by SAFARI Montage® to manage bandwidth issues, while our videoconferencing solution (SAFARI Montage® Live!) is being used for communication and instructional purposes.
Hall County (GA) has linked SAFARI Montage® video resources into their Learning Management System via IMS Global LTI standards.
---
 Broadcast School News and Stream Live Events easily with SAFARI Montage® IPTV
SAFARI Montage IPTV offers K-12 schools a cost-effective and simple solution for streaming live video, cable TV and on-demand digital resources to classrooms. The solution enables schools to easily capture school news, classroom lessons and school events for future viewing to support teacher observations, flipped classrooms and more. Schools can deliver these valuable learning resources to any device on their network, including mobile devices, projectors and interactive whiteboards, while effectively managing bandwidth consumption.
---
Key Benefits of SAFARI Montage IPTV
Interoperable with classroom technology. Deliver school news and live video to any classroom display or mobile device.
Mobile Device Friendly: Automatically converts recorded video files for playback on mobile devices
Cost-effective: Low annual fees plus eliminates costs of coax cable networks, multiple head-ends and classroom TVs
Digital Rights Management: Offering administrators robust, centralized control and distribution
Ability to Schedule, Record and Store a wide variety of video sources for future viewing
---
SAFARI Montage® SD/HD MPEG Digital Encoders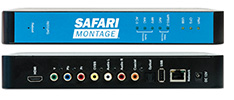 SAFARI Montage IPTV uses these powerful and cost-effective encoders which offer flexible video input options and support SD and HD resolutions, ranging from 480i to 1080p.
---
Broadcast Live Events to Mobile Devices
he SAFARI Montage® Universal Live Broadcaster converts live streams to be delivered via HLS to mobile devices, such as iPads, iPhones, Android™ tablets and phone, Chromebooks™, and Windows® RT tablets.
A Digital Learning Platform That Simplifies Classroom Lesson Presentation Through a Single Interface
– A mobile device-friendly platform for 1:1 environments
– A mobile device-driven virtual student response system
---
---
Upload, Meta-tag, Manage and Access User-Created Files From Anywhere, Anytime.
---
---
      SAFARI Montage is now being used in over 10,000 public schools across the United States. From Denver Public Schools to Hastings, MN, the application of the flexible SAFARI Montage® solution has conquered the major technological hurdles impeding the ability of today's educators to instruct and engage students reliably.